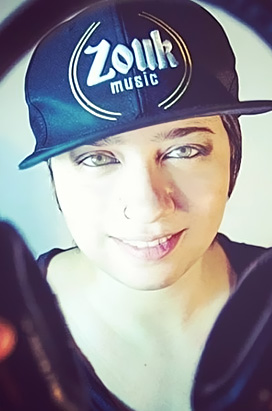 Kakah
International DJ
Known internationally for her remixes and Zouk productions
Kakah has entered the dance world in 2009, focusing on West Coast Swing earlier in her career, and most recently Brazilian Zouk – a rhythm that now a days over rules the dance floors in Brazil.
In 2011, she started to dedicate herself to Brazilian Zouk, initiating her career as a DJ and producer, having more than 400,000 accesses with her remixes all over the internet. Since 2012, she worked as DJ at several West Coast Swing congresses throughout Brazil, such as SunCity Swing, West em Sampa, Floripa Summer Swing, West in Rio and was recently invited to the Swing in Paradise event as the main DJ. After being asked to play at SunCity Swing in 2013 alongside Cher Peadon – DJ and West Coast Swing DJs Global Association founder, Kakah was recommended by Cher herself to be a part of this group who are considered to be the best WCSwing DJs in the world.
Known internationally for her remixes and Zouk productions, she took part in several related events such as Zouk-se, Fortaleza Soul+Zouk Festival, Zouk Extreme, 2nd International Zouk Lambada Summer Festival, F.I.E.L. 2014 (International Latin Entertainment Festival), Exalta Afro, BSB dança and Capital Zouk, UaiZouk, and various other events, and is currently preparing for her first tour in Europe, the US and Canada – planned for 2015.
Kakah has been invited to DJ at numerous congresses, clubs and WCS and Zouk parties in São Paulo – Troppo Zouk, Capital Zouk, NZBlack, Icaraí, Hawaí Interlagos and Cia Terra. She started her career with music for over 10 years ago and today she produces multiple singers, being the only Kizomba producer in Brazil.